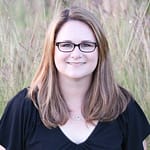 BROOKE DICKHART
Executive Director
Brooke is the daughter of a former Navy SEAL who suffered from PTSD, depression, and substance abuse. Brooke channeled her strong desire to help others like her dad and her frustration with the lack of treatment options available to veterans into creating The Joel Fund. Brooke brings her knowledge of entrepreneurship and personal experience to TJF in an effort to educate others about the hardships faced by our veterans. Brooke leads the TJF team and oversees fundraising, community involvement, and partnership development. Brooke is married and has three children. Brooke holds a B.S. from Virginia Tech.
ISABELLA BREZENSKI
Operation ART Program Coordinator
Isabella was raised in Durham, NC by a Dutch mother and an American Army Veteran dad. They both supported her desire to perform and create art. She holds a BA in Drama with a minor in Psychology from UNC Greensboro and is fascinated by the intersection of art and healing. Isabella has been an acting teaching artist with the Town of Carrboro, Portland Stage in Maine, North Carolina Theatre, North Raleigh Arts and Creative Theatre, and Raleigh Little Theatre. Because Isabella was raised in a military family and her father deployed when she was young, she is honored to have the opportunity to support the Veteran community through the arts in her native North Carolina.
KATIE BRASWELL
Operations and Marketing Manager
Katie is a creator, designer, and editor and desires to use her abilities to serve her community. Since moving to North Carolina from her home state of Indiana in 2015, she has honed and developed these strengths. Katie values faith and family above everything else. She is a proud wife of a Veteran who served his country in the Air Force Special Forces. She is a blessed momma of two handsome boys. Their time together is precious, so they make the most of it! They love trips to the family beach cottage as well as outdoor fun on the family farm. Katie understands firsthand the importance of support and camaraderie, especially within the veteran community. She believes we are all meant to serve others and our communities with our unique gifts. With The Joel Fund, Katie looks forward to making an impact in the lives of veterans and their families.
RICK BOWERS
Chairman of the Board
After a successful 36-year executive career at IBM, Rick decided it was time to step back to spend more time with his family, tune up his golf game, and give back to his community and others. Most recently, Rick served as an active board member for the United Way of the Greater Triangle. He is currently working as a fractional CTO with small companies transforming and implementing their business processes and systems. Rick's grandfather was a veteran of WWI and his father was a Navy veteran. Rick is looking forward to working with The Joel Fund to serve our military community.
Rick currently lives in Raleigh, NC, with his wife Barbara and daughter Sabrina.
THOMAS LINDGREN
Board Member
Tom is the son of a Marine Veteran who served during the Korean War.
He has also been on the Board of Oak City Cares since 2019 and is currently the Vice Chairman. He has been practicing law since 1982. He and his wife Maureen moved from New York to Raleigh in 2006 and have 3 children 2 of whom live in North Carolina. They are also the proud grandparents to Patrick and Marcus Lindgren.
Derrick Ware currently serves as the Chief Product and Technology Officer at Newsela, a leading online K12 education platform that provides meaningful classroom learning solutions for students, teachers, and administrators. With his extensive background in technology and business, Derrick brings valuable insights and expertise to drive strategic decision-making and foster innovation within the organization.
Hailing from Moncure, North Carolina, Derrick's educational journey took him to North Carolina State University and North Carolina Wesleyan University, where he earned degrees in Computer Information Systems and Business Administration. These strong foundations have equipped him with a comprehensive understanding of the intersection between technology and business.
Derrick's professional journey began as an F-15E "Strike Eagle" crew chief in the United States Air Force, where he developed invaluable skills in precision and attention to detail. Following his military service, he transitioned to IBM, where he specialized in hardware and software solutions, further expanding his technical expertise.

Beyond his technical prowess, Derrick's commitment to social impact is evident through his founding of a mission-driven technology company.
Additionally, he has served as a founding board member for a public-private partnership aimed at positioning North Carolina as the premier state for military employment. His dedication to creating positive change is reflected not only in his professional endeavors but also in his active engagement within the community.
Residing in Wake Forest, NC, Derrick takes great pride in his role as a father to his four children, consisting of one daughter and three boys. His ability to balance his personal and professional life showcases his exceptional leadership and commitment to fostering a harmonious work-life integration.
DAN SANDEROFF
Vice Chairman of the Board
After a unique childhood that included 5 sets of legal guardians, Dan knew the Military was the right path for him. He enlisted in the Navy at the age of 17 through the delayed entry program. In the Navy, Dan served on the FFG 27 USS M.S. Tisdale and the DDG 56 USS John Paul Jones. He separated from the USN as a Gunner's Mate 2nd class in 1999. After separation, Dan started working in the Security/Access Control industry as a construction assistant. After over 17 years with the same company, he manages the company's regional markets' installation and service. Dan finds time to keep in touch with his fellow Navy alums. Dan is excited to be involved in TJF, and this is his first Board Member position within a charity. He is a husband and proud father of two boys and loves the Redskins and his country.
Jes
Averhart is the CEO of
Jes
& Co., a best selling author and creator of 28 Days of Reinvention.
Jes
 specializing in stakeholder engagement and leadership development.
Jes
advises executive leadership on growth strategies and talent development. Her cross-industry corporate engagement includes companies within Research Triangle Park and the American Underground, a Google for Startups Tech Hub (aka, the "Startup Capital of the South" by CNBC). During her tenure, she had the unique opportunity to manage relationships with Google, Fidelity Labs, Wells Fargo, Coastal Credit Union, Lincoln Financial and others.
Her time spent immersed in the startup scene also inspired her to co-found 
Black Wall Street Homecoming
, a nonprofit aimed at closing the funding gap for Black and Brown tech founders.  Earlier in her career,
Jes
launched a boutique production and marketing company specializing in providing professional management services for the likes of the 
Cincinnati Bengals & Cleveland Browns
 (NFL), 
Cleveland Cavaliers
 (NBA), the 
Procter & Gamble Company 
and
 Pepsi Cola North America.
Jes
is also the host of the Reinvention Road Trip® Podcast and a frequently-requested speaker 
and co-author of 
Oh, Lords!
 and 
28 Days of Reinvention
 (Dec. '21).
Originally from Evansport, Ohio,
Jes
learned the ropes quickly by working in the family's real estate, auctioneering and appraisal business. After college, she accepted a corporate role with General Electric; but it didn't take long before she started her own company, making her a 4th generation entrepreneur.
Both of Jes's parents, her grandfather, and her uncle (reservist) are veterans. It's the whole reason she is drawn to the work. 
Jes
moved to North Carolina in 2005 devoting much of her time to raising her son Tre, serving on various non-profit boards and cheering on The Ohio State Buckeyes.
MICHAEL MARTIN
Board Member
Michael Martin is a Producing Branch Manager at Fairway Independent Mortgage Corporation in Raleigh, North Carolina. Michael grew up in Alexandria, VA but moved to Sunset Beach in 1990. He graduated from East Carolina University in 1997 with a bachelor's degree in Business. Shortly after, he decided that the mortgage industry is where he was meant to be and has been a loan officer for the past 21 years.
Michael has won several awards since beginning his career in the mortgage industry, beginning in 2002 when he won "Rookie of the Year." The following three years he was fortunate to be named "Top Producer" before he began to learn more about his passion to lead people and got into Sales Management. Michael has been a President's Club winner each year from 2008-2021, during an unprecedented time in the industry.
In 2017, Michael opened his own branch within Fairway Mortgage and is now able to follow both passions of working directly with clients while leading a customer-focused sales team. Martin Mortgage Group (MMG) strives for excellence in customer service in order to turn every client into a Raving Fan. MMG also regularly enjoys giving back to the community; from team volunteer days to donating to one of three charities (The Joel Fund, LLS, or Habitat of Wake Co) after every closing, Michael is truly grateful for the opportunity to serve others.
Michael's family military connection includes his dad (army), grandad (Army), uncle (Navy), aunt (Navy), cousin (Army Ranger), and another uncle (Army). Michael "feels very grateful for what the folks in the military do every day." He serves Veterans nearly every month by helping them purchase homes, many using their VA benefits.
Michael lives in Raleigh with his wife Tonya, and daughter Finley and their boxer, Riggins.