Bring your ideas to three-dimensional life by creating one-of-a-kind handbuilt ceramic art pieces!
You'll learn to roll unfired clay into slabs by hand, securely join clay components, add textures, and paint-on underglazes for surface decoration. We will be working with a low-fire sculpture clay to build a small collection of decorative objects (not food-safe functional pottery) such as a lidded box/jar, wall pocket, ornamental bowl, or hanging plaque, depending on participants' interests. We'll take our time and craft each piece in phases, working on each project across multiple class meetings, so you can savor the details and smooth out the edges.
Works will be fired off-site after the class is finished and will be available for pickup from the Joel Fund offices in early October. No experience is necessary; your instructor will meet you where you are and provide the support you need to enjoy the creative process–the clay studio is fully accessible, participants will be able to stand or sit as desired, and accommodations are always available for any specific needs.
Working with this medium provides a unique opportunity for sensory engagement and creative development–come connect to yourself and other makers as you find your way with clay!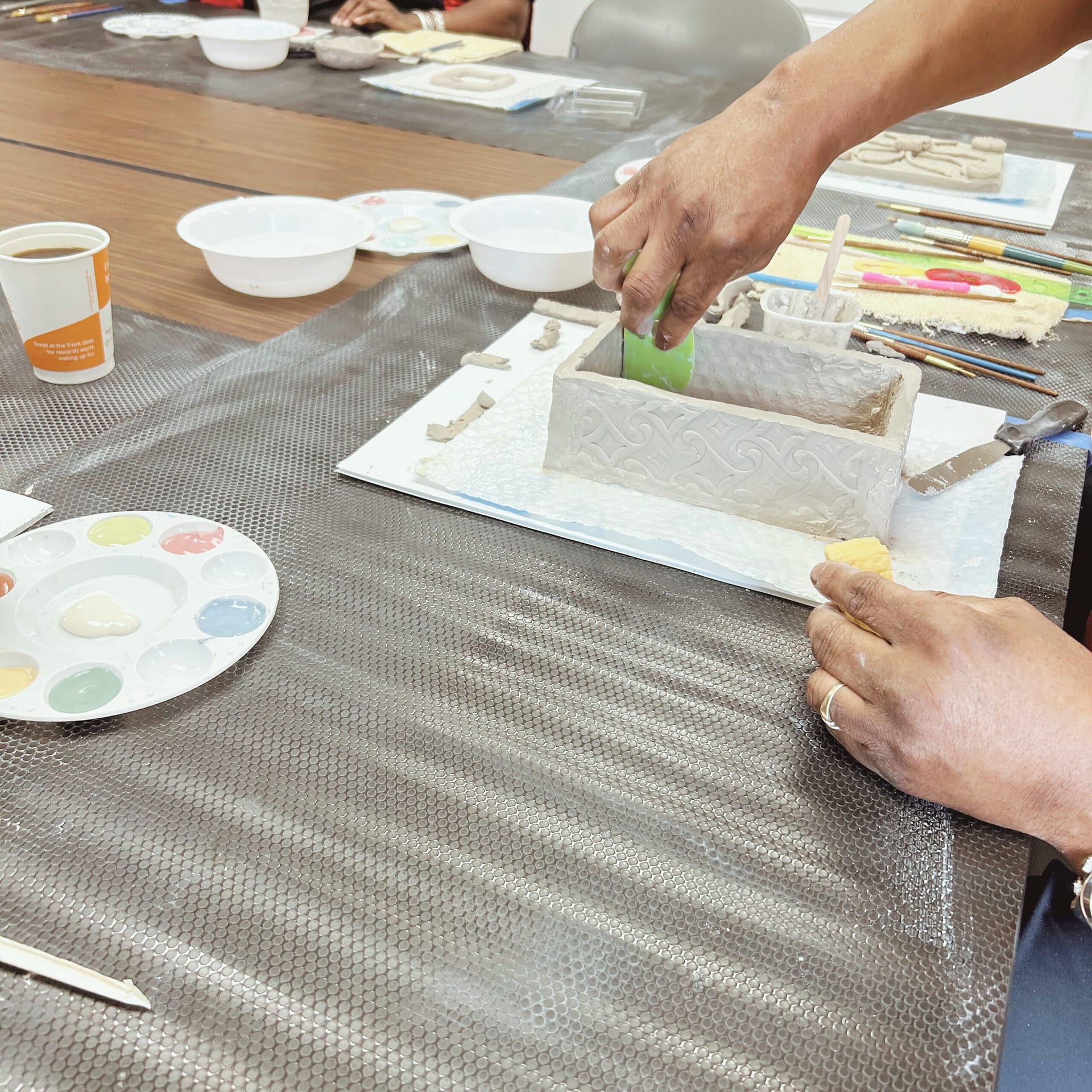 LOCATION: The Joel Fund Art Studio | 822 S. White Street, Wake Forest, NC 27587
INSTRUCTOR: Emily Malpass
CLASS TIME: Wednesdays, 10 AM – 1 PM
DATES: August 9th through September 20th with no class on September 16th
8/9, 8/23, 8/30, 9/6, 9/13, 9/20, Skipping 8/16
MAKE-UP DATES: September 27th and October 4th
COST: $25
We offer scholarships for those who cannot afford the registration fee.
Please click here.
REGISTRATION DEADLINE: August 6th, 2023 
If it is past the registration deadline or you have any questions, please email isabella@thejoelfund.org.
HANDMADE CERAMICS REGISTRATION