HANDBUILDING POTTERY FOR PEOPLE
WITH VISUAL IMPAIRMENTS
This class is being offered to individuals with low vision, visual impairments, and/or who are blind.
Learn to work with clay at The Joel Fund! 
This class will introduce students to hand-building pottery. Students will learn to create and glaze their own work.
If you have any questions about this class, please contact Isabella Brezenski at 919-200-0886 or isabella@thejoelfund.org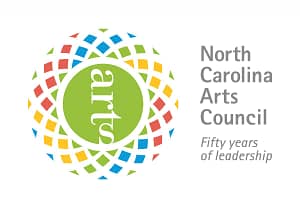 This project is supported by the North Carolina Arts Council, a division of the Department of Natural and Cultural Resources, with funding from the National Endowment for the Arts.
LOCATION: The Joel Fund Art Studio | 822 S. White Street, Wake Forest, NC 27587
INSTRUCTOR: Emily Malpass
CLASS TIME: Fridays, 10 AM – 1 PM
DATES: March 17th, 24th, 31st, April 14th, and 28th (no class meeting Good Friday April 7th and April 21st)
Make up date May 5th
PREREQUISITE: None; This class is being offered to individuals with visual impairments.
REGISTRATION DEADLINE: March 10th, 2023
This registration deadline is a month before the class in order for The Joel Fund to prepare for any accommodations needed for this class. 
If it is past the registration deadline, please email isabella@thejoelfund.org.
HANDBUILDING POTTERY REGISTRATION