Have you ever wondered what freedom smells like? According to Evan Hafer, Green Beret veteran and entrepreneur, it smells like Black Rifle Coffee (BRCC).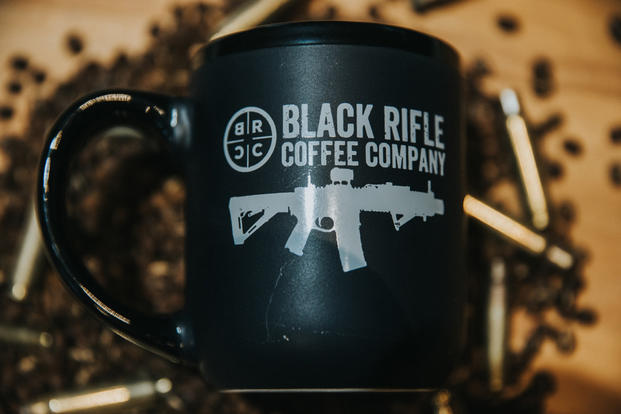 Coffee Forged by Combat and Fire
Trust us: Hafer knows coffee as well as he knows danger. He spent a good deal of his career in special forces and as a military contractor in some of the most dangerous, war-torn places on Earth. And wherever he went, he meticulously roasted his own coffee beans and packed them.
He didn't know it at the time, but what began as a hobby would become his passion and turn into a lucrative veteran-owned and operated artisan coffee company. But his success was not without hardship.
Says Hafer, "I really struggled when I returned. I left the government [by] 'burning bridges behind me to light my way.' My wife and I had just had our first daughter and my home was destroyed in a flood. I didn't have any tangible skills other than my ability to think and not quit."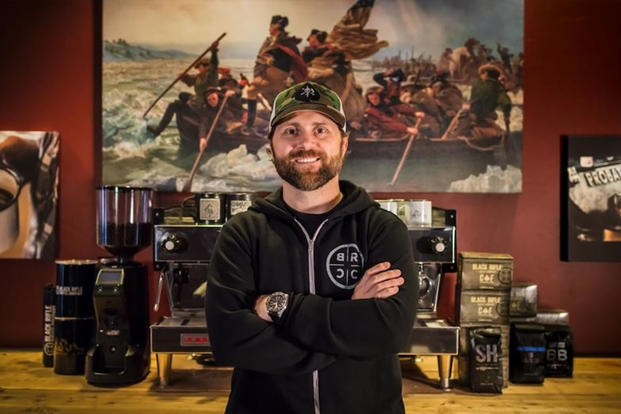 Inspiration AR-15 Style
Hafer and his friend Troy Williams were sitting on the tailgate of his truck at the firing range when he came up with the idea for BRCC. It was simple arithmetic.
"There was an AR-15 on the tailgate next to Evan. He looked down at the rifle and the coffee in his hand, and came up with the name Black Rifle Coffee," says Mike Semanoff, BRCC Public Relations Director.
It's not hard to figure out what BRCC's brand is all about; with roasts that have names like Red White and Brew, Freedom Fuel, Coffee or Die, AK-47 Espresso, and Silencer Smooth. Let's just say that the 2nd Amendment is high on the list of BRCC's core beliefs.
Success Born from Authenticity (and Humor)
BRCC, like Hafer, is all about authenticity and a clear mission; a single-minded focus on the highest quality products and customer all while not taking themselves too seriously. If you don't believe that, check out some of their promotional videos, like Horror Film Survival Tactics in collaboration with 5.11.
Hafer doesn't shy away from controversy and is unapologetic when advocating for what he believes.
Says Hafer, "We realize there are a lot of people out there who have delicate sensibilities and won't appreciate our brand, humor, and personalities — we aren't concerned with having everyone drink our coffee."
It's clear that BRCC's bold approach is working. The company has seen explosive growth–nearly 700% every year since it was founded in 2015.
Hafer says BRCC will continue to expand in the digital space as well as into brick and mortar with franchising opportunities. But BRCC is not just about high quality coffee and company growth — it's also about giving back to veterans and veteran-related causes.
Putting Veterans First
More than 60% of Black Rifle Coffee employees are veterans, and that is a reflection of the credo of their business. In addition to BRCC headquarters' employees, they have partnered with an expert in retail expansion and franchising and plan to open dozens of coffee shops over the next two years with an emphasis on hiring veterans first.
In addition, they have partnered with Warrior Heart, The Folded Flag Foundation, and The Home Deployment Project to help raise funds for veterans and their families.
Homage to the American Patriot
It's fitting that BRCC uses the slogan "Coffee, or Die" beneath a twisting, segmented snake; a fun homage to American colonists who subverted Benjamin Franklin's political cartoon "Join, or Die," to advocate colonial unity against the British. And while BRCC's revolution isn't about routing the Brits, it is about fueling freedom-loving patriots with high quality, highly caffeinated coffee.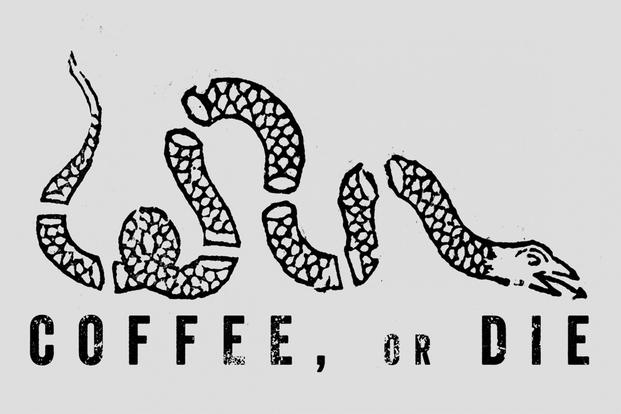 Hafer is serious about coffee and about helping veterans. Here are some of his top tips for veterans and those in the military community in transition to civilian life.
Evan Hafer's Transition Advice:
1. You have to feed yourself a heaping bowlful of humility. Humble yourself at the altar of business. If you're humble, you'll find the right answers to your questions — not the answer that your ego wants.
2. Understand that your military training is a gift. Lean your ladder on the fact that you've had tougher circumstances.
3. Be your own First Sergeant. Ask yourself what would my senior non-commissioned officer or officer tell me to do? Be your own leader, yet look to others who you respect and ask lots and lots of questions.
4. Kick yourself in the ass everyday. You're equipped to show up and get the job done even if you don't want to do it because it benefits the mission. Beat the trashcan to get your ass moving.
5. Being a civilian is not about being comfortable. Write yourself a mission statement and mission objectives. Write operation orders and overall mission goals and do after mission assessments to evaluate what went according to plan and what didn't.
Black Rifle Coffee Company is a veteran-owned company based out of Salt Lake City,Utah and bills itself as "the world's premium conservative coffee." BRCC specializes in small-batch, roast-to-order coffee, and other high-quality products. Its goal is to deliver the highest-quality customer experience, serve premium coffee to the conservative customer and honor those who protect, defend, and support our communities and our country.
— Sean Mclain Brown can be reached at sean.brown@military.com. Follow him on Twitter at @seanmclainbrown.
Source: https://www.military.com/green-beret-vet-turns-passion-freedom-loving-coffee-company.html